The episode begins with Matt and Goil catching up on their girl talk discussing (what else?) size and weird things that can be done when size is manageable. Oh sure, one can assume they're referring to the number of designers left in the competition…but where's the fun in that?

Andrea reveals to us that she's secretly super-competitive. She's grown a bit weary but her fatigue serves as fuel, motivating her to fight harder, take off the gloves and come out swinging.



Cut to the lobby of the Kelly Wearstler-designed, Viceroy Hotel in Santa Monica. Matt just bursts with fruit flavor as he reveals that he has images of the Viceroy that he's pulled from a magazine hanging in his office. He simply can't believe that he's actually there and able to see it in person. He is as giddy as a kid at Disneyland.



Todd goes on to explain that smart interior design has become the key "element" to a guest's experience. And that nobody understands hotel design better than guest judge, Linda O'Keefe, Design & Architecture Director for Metropolitan Home Magazine. With an intro like that, one can't help but wonder why the Viceroy didn't just hire her to design their interior.

This week's challenge? To design a luxury hotel suite focused on the needs of today's traveler. The budget is $30,000 PDC dollars, $3,000 for linens, $1550 for fabric, paint and lumber and three days to execute. As an added twist, each designer must adhere to a theme based on the four natural elements. Cards are drawn. Andrea draws earth, She Who's Name We Do Not Speak draws air (and lots of it!), Matt draws water, and Goil draws fire. (Insert flamer joke of your choice here.)

Now, we've seen Goil play word association games on Watch What Happens and he admits he's not terribly good at them. But associating fire with disco? If someone yells fire I can guarantee you will not find me doing The Hustle. Matt's a soggy Scorpio so he's pleased as punch to have drawn water. Andrea is completely baffled by the fact that she drew earth and in a sublime moment of TMI reveals she is "not crunchy."

The Results: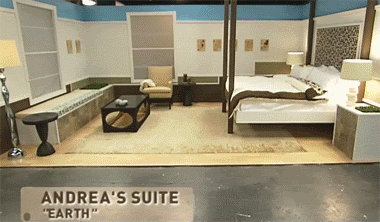 She Who's Name We Do Not Speak's room featured lovely shades of blue on two opposing walls with some Goil-esque "vents" in the center to simulate a continuous flow of air. I must say, this room worked. It was unique, friendly and nicely finished.

Goil focused on the more calm and beautiful aspects of fire such as sunsets, passion and forged metal. Sure, why not? The room featured a horizontal line of fabric-covered boards to simulate a horizon line at sunset. As a room, I rather liked it. As a high-end hotel suite? Eh, not so much. From what we could see, however, nothing was on casters.

Andrea tried to avoid sad and muted tones in her room but somehow it still felt dull and dreary. Her room featured a bench with a patch of grass on one end as opposed to a proper couch which didn't help matters any. Nor did the dried floral artwork on the walls. This was actually my least favorite this week.

Matt's room was based on the concept of clarity. He used a very faint shade of blue paint on the walls, white bedding, and translucent or mirrored furnishings. He added dark lamp shades and a dark throw on the sofa for just a bit of contrast. The only thing that just didn't seem to fit was the beige rug he chose. A dark navy rug would have really made the room pop.

There were really no surprises in the White Room.


Laz: "Thank you, Britney."

Britney: "Shoot, and y'all call me crazy..."

Laz: "That'll do, Brit. That'll do."

As I was saying, other than the usual assaults on the eye, judging in the White Room went as expected. The judges liked SWNWDNS's airy room. Goil's efforts were applauded but the room was critiqued as being too literal and theoretical and not sufficiently luxurious while Andrea's room just wasn't green enough. Matt's room, on the other hand made everyone moist. Matt not only wins the challenge but he'll also be featured in an editorial spread in November's issue of Metropolitan Home. That's a heck of a lot better than $2500's worth of Jonathan Adler merchandise, if you ask me!

This week turned out to be Goil's turn to go home.

Oh, Goil. We've loved you from the start. You are brilliant and innovative and as wonderfully human as the next guy. We hate to see you leave, but know you'll go far!

We'll miss you and think of you fondly every time we see a dog on wheels or chow down on a bowl of noodles!